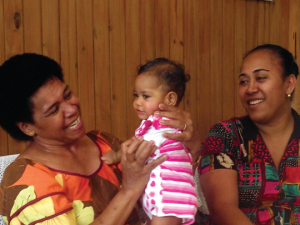 For Kisaia Bogi her family was everything. Unfortunately, her husband Aminio Lagoia tragically passed away at the age of 39 years. She was devastated knowing that life would be difficult raising her three daughters alone
Fortunately for Kisaia and her daughters, her husband had invested in a life insurance policy with BSP Life a few years prior to his death. Following Aminio's untimely loss, Kisaia received a payout from his life insurance cover. Kisaia used the funds from Aminio's life insurance to buy a home in Nabua. She was also able to fund her daughters' studies at the University of the South Pacific.
Kisaia remembers that Aminio, an army officer, was advised by his cousin Sikeli Tawailasa who was then a Colonial Sales Advisor, to take out a life insurance policy a few years prior to his death. She also remembers that each time Aminio found it difficult to continue paying his premiums, Sikeli strongly advised him never to surrender his life insurance policy.
While Kisaia misses her husband, she is very grateful for his wise decision in taking out the life insurance policy. This helped her family carry on with their lives, Today Kisaia enjoys her retirement working on her garden and spending time with her daughters and grandchildren.